UNSC Wind Power Facility
Statistics
Name:
UNSC Wind Power Facility
First Appearance:
We Must Rebuild
Inhabitants:
Omega's forces, Zanzibar Reds
Status:
Abandoned
"Yes, this place will do nicely for an evil lair. It's diabolically designed!"
—Omega...
"As a student of Feng-shui, I can tell you this house is 88% good luck. Also, very breezy. I like the floor plan."
The UNSC Wind Power Facility is a power station located on an island with a windmill where the Reds and Blues were transported to in the supposed future after the bomb in Church's body exploded. During the Blood Gulch Chronicles, O'Malley and his allies often used this location as their base of operations.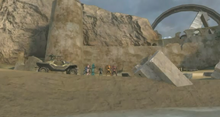 Doc/O'Malley made this place their evil lair, and is accompanied by the Red Zealot and Lopez. This is where Lopez made his army of robots and where the Blues meet Crunchbite (who destroys the Robot Army) and Andy, after the teams assaulted the island in an attempt to capture O'Malley, which fails. Tucker finds his sword underneath the windmill and the Zealot dies during this battle. Before anyone had arrived in the location, Gary installed himself in a computer terminal here until reuniting with Wyoming. After they reunited, they left the location to aid O'Malley at Blood Gulch.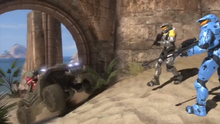 In Reconstruction, Washington, Delta, Church, and Caboose attempt to capture the Meta while he tries to obtain power when they returned to Zanzibar. However, the Red Team interrupts their mission, causing the Meta to capture Delta and escape. After the Meta attacked the entire group, the Reds joined forces with the Blues and Wash to stop the Meta before they left Zanzibar. In Season 10, the Reds, Blues, and Carolina arrive here to make a pit stop after rescuing Epsilon.
External links
Edit
Community content is available under
CC-BY-SA
unless otherwise noted.