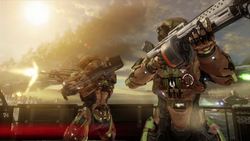 "I've seen the status reports from the War. The list of casualties. I can read between the lines. We're losing, aren't we?"
—Washington to the Counselor in Washed Hands.
The Great War, also known as the Human-Covenant War, was an intergalactic conflict between the UNSC and the Covenant, a large alliance of aliens that included the Sangheili. The war began at least 23 years before the events of Blood Gulch and ended sometime around the Reds and Blues reassignments at Rats Nest. Throughout the course of the war, the UNSC attempted to find alternative ways to gain the upper hand. One of these attempts was Project Freelancer, a program run by Dr. Leonard Church with the intent of creating super soldiers. The victor of the war is unknown, but humans and aliens have been seen working together since then.
The Great War is heavily based on the similar war taking place between Halo's 1-3 in the Halo series, referred to as The Halo Event. Unlike The Halo Event however, The Great War seems to have only been between Humans and Sangheili, with no mention of other races or The Flood, although the Halo rings have been referenced a few times in Red vs Blue. Because of this, it's unknown how similar The Great War is to its Halo counterpart.
Several known characters took part in the war. Almost all UNSC personnel were involved in some capacity, including the simulation troopers before they were given to Project Freelancer for the simulation outposts.
The Sangheili's home planet was mentioned in the Ultimate Fan Guide on page 181, where it was confirmed that Tucker and Junior reunited and visited the planet.
Tucker references the Halo Rings at one point in Called Up, implying that similar to its Halo counterpart. A major aspect of The Great War was about fighting for control over them.
The outcome of The Great War is a truce between the Humans and Sangheili, similarly to it's Halo counterpart, although it's never specified if the circumstances surrounding the truce are the same in Red vs Blue as Halo.
The planet of Chorus was inhabited by the UNSC during the war, but after the war was finished they abandoned it and left the people behind.
Community content is available under
CC-BY-SA
unless otherwise noted.