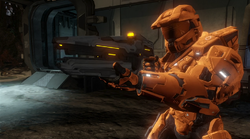 "Let's see you outrank the end of my shotgun!"
"Uh, done. Fucking space laser, bitch."
The Suppressor is a weapon that fires multiple bolts of hard light. The weapon first appears in the episode Self Assessment, being primarily used by the Space Pirates and later, Carolina and Grif. When the Reds and Blues analyze the weapon in Catch Up, No Mustard, Dr. Grey discovers that it fires alien-like plasma energy.
Community content is available under
CC-BY-SA
unless otherwise noted.