Red vs. Blue Episode
"Season 12 Teaser Trailer"
Episode no.
0
Airdate
April 1, 2014
Running time
2:17

Red vs. Blue Season 12
April 28, 2014 - September 29, 2014

Teaser Trailer
The Season 12 Teaser Trailer takes place after the events of Season 11 and before the events of Season 12. It aired on Rooster Teeth's 11th anniversary, April 1, 2014. It is considered to be the 245th episode overall.
Characters
Edit
The trailer opens with Vanessa Kimball recording another journal entry, presumably one of many, as she provides exposition for the events between seasons 11 and 12. Weeks have passed since Felix and the New Republic managed to rescue Tucker, Grif, Simmons, and Caboose from Locus' capture, and things aren't going favorably for the faction. Kimball mentions that outposts are lost just as quickly as they're gained due to the heavy casualties and the inability to defend their new bases. Any weapons or equipment seized from the enemy arrives in poor condition and is barely functional. The questioning, exhausted tone indicates that Kimball is not entirely confident in her new captains, who continue to demonstrate various flaws and weaknesses, such as Grif's liberal interpretation of training exercises being staged in the mess hall, Simmons' floundering social graces leaving him incapable of leading his female squad, and Caboose's destructive tendencies breaking valuable machinery and vehicles. Kimball notes that of all of them, Tucker seems the best qualified to lead, but only by drive, and she questions whether or not drive will be enough. After she frets over the status of the captured prisoners and wonders how they can save a planet if they can't even save POWs, Tucker appears from behind her and nonchalantly reassures her, "Meh. We'll wing it."
Transcript
Edit
Vanessa Kimball's voice can be heard.
Kimball: Journal entry... (tired, frustrated sigh) Who can even remember at this point?
Fade in to the comm tower at Crash Site Bravo before fading to black. Cut to an overview of the canyon, abandoned.
Kimball: For the past few weeks it's just been one step forward, two steps back.
Camera pans along the ground.
Kimball: We manage to take an enemy post, but we lose too many men to hold it. Felix brings in a haul of weaponry, but half of it is damaged beyond use.
Camera pans to outside of Blue Base.
Kimball: And as for our heroes. Well they're...technically soldiers. I think?
Camera pans to the sandbag wall where a mounted gun turret and teleportation cubes can be seen littered on the ground.
Kimball: Captain Grif has certainly exhibited extraordinary creativity, and by that I mean he somehow managed to incorporate infiltrating the mess hall into his men's daily training routine.
Scene transitions to the interior of Red Base.
Kimball: Captain Simmons has taken up the mantle of leadership with gusto, but he seems to fall apart when it comes to communicating with his squad. I've talked to them about, but the girls just can't figure out what's wrong.
Camera pans along the minefield where Lopez 2.0/C.C.'s fallen body rests.
Kimball: Captain Caboose has officially been forbidden from operating vehicles and heavy machinery. I won't go into details.
Camera pans to an overhead shot of the ground, with various guns strewn about.
Kimball: As for Captain Tucker...he's our best bet at this point. He's not smart, he's not disciplined, but he's driven. (sighs) I just don't know if driven will be enough.
Fade to Vanessa Kimball speaking in front of a monitor.
Kimball: The Federal Army has their friends, and they've put a hell of a lot of obstacles between us and them. If we can't even save a few prisoners, how can we expect to save Chorus?
A voice is heard from behind Kimball.
Voice: Meh.
Kimball turns to see Tucker standing behind her, who shrugs.
Tucker: We'll wing it.
A montage begins before revealing the Season 12 title card.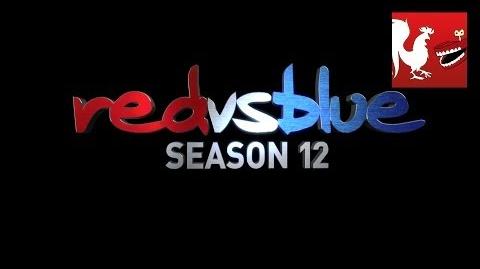 Community content is available under
CC-BY-SA
unless otherwise noted.