Rooster Teeth Productions, LLC. is an American production company located in Austin, Texas co-founded by Burnie Burns, Jason Saldaña, Matt Hullum, Geoff Ramsey, Gus Sorola, and Joel Heyman in 2003. From then on, the company has grown vastly in its community, content, and productions. Red vs. Blue is one of its many productions, notable for being the first.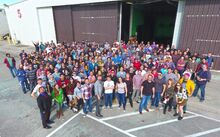 Rooster Teeth Productions is the name of the company which produces Red vs. Blue. The name of the company originated from a common insult in Red vs. Blue, "cockbite". As such, the company logo consists of a silhouette of a rooster and a wind up chattering-teeth toy. Rooster Teeth has produced many other shows such as The Strangerhood, PANICS, Rooster Teeth Shorts, RT Life, RWBY, Camp Camp, Nomad of Nowhere, Achievement Hunter, and Immersion. Red vs. Blue is still one of their most popular shows.
Community content is available under
CC-BY-SA
unless otherwise noted.