Red vs. Blue 360: Supply Drop is a special episode of Red vs. Blue that acts as a followup to Red vs. Blue 360: A Day at the Base. The episode utilizes YouTube's 360º feature. It aired on December 16, 2016 on YouTube.
The Viewer
Helicopter A.I.
Christmas comes early to Blood Gulch. While the Reds and Blues scramble to divide up the loot from a supply drop, Sarge and Church attempt to make heads or tails of a new recruit.
Simmons: 17...18...19 grenades!
Sarge: We'll take them!
Church: We'll split them, like we agreed for the 100th time!
Simmons: You can't divide an odd number by 2 you idiot!
Church: How about we split the last grenade? Blue team will take the pin and red team, you guys can have the rest.
Sarge: Deal! (mutters) Sucker...
Tucker: Why don't we all just chill out and take a deep breath? There's plenty of stuff for both teams.
Grif: Found a sniper rifle over here.
Tucker: Get the fuck off, it's mine!
Grif: Uh no dude, finders keepers.
Simmons: Maybe we can find a compromise and share the rifle, you know, like we did with the helicopter thing.
Helicopter blades whirring
Church: Yeah! Cause that worked out awesome!
Donut: Scoot your caboose, Caboose; it's my turn to steer!
Caboose: Ok! You do the stick thingy and i'll do the pushy button thingies!
Helicopter AI: Friendly fire activated.
Church: Oh god dammit.
Simmons: Hey Sarge? I think i saw the new guy move his head.
Sarge: Excellent! You're awake! We were worried you'd suffered irreversible brain damage when we shot down the-uh-i mean uh...when the supply ship crashed horribly and completely on its own, with no interference from us whatsoever! Welcome to the red team, rookie!
Church: Hey, not so fast, Sarge! We don't even know what team he's on yet. Hey Buddy, what are you? Red or Blue?
No dialogue
Sarge: Speak up soldier!
No dialogue
Sarge: Hm, the strong and silent type eh? I like the cut of your gib! Grif and Simmons blithering and blathering, i can hardly get a word in edgewise!
Simmons: Sarge?
Sarge: Shut up Simmons! I can't even hear myself think! Come on son, we'll get you settled in Grif's bunk.
Grif: What?
Tucker: Ha ha! Give me my rifle!
Gunshot
Donut: We're hit! Caboose, i'm pulling the ejection handle, but nothing's happening!
Caboose: Uh, that is not the ejection handle!
Donut: Oops! Silly me! Here it is!
Helicopter AI: Music activated. Connecting to Zune music player.
Warthog music
Grif: (sarcastically) Great shot, Tucker.
Tucker: Are you being sarcastic? Because that was fucking sweet!
Warthog music getting louder
Church: Shut up you morons! Run!
Crash
Fade to black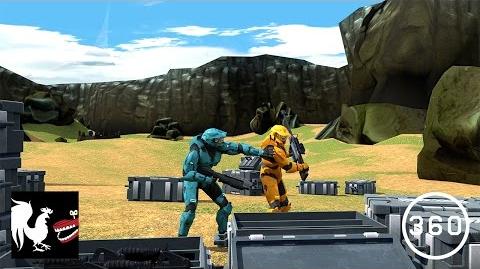 Community content is available under
CC-BY-SA
unless otherwise noted.