Red vs. Blue: Season 2 is the second full season of Red vs. Blue. It began airing on January 3, 2004. The season is set three months after the first season and continues the story of the soldiers in Blood Gulch. The season introduces a new character, Doc, and a new villain, O'Malley.
It is the second installment of The Blood Gulch Chronicles.
The second season of the action-comedy series Red vs. Blue and part of The Blood Gulch Chronicles. When a mild-mannered medical officer finds himself deployed to the most worthless stretch of land in the entire galaxy, the last thing he expects to find are his first patients dead, a poltergeist haunting a robot, a 200-ton tank in the center of a love triangle, and an evil strain of artificial intelligence attempting to enslave all of humanity.
Episode List
#
Episode Title
Running Time
Description
20.
Everything Old is New Again
7:10
Medical Officer DuFresne arrives in Blood Gulch and meets the Blue Team.
21.
Motion to Adjourn
3:56
The Blues fend off an attack from the Reds, while the Reds fend off themselves.
22.
Red vs. Bleu
4:23
The Blues surrender and sacrifice Doc. In return, the Reds sacrifice Grifs self-esteem.
23.
The Joy of Toggling
4:28
Doc distances himself from Grif. Meanwhile, the Blues make a discovery.
24.
Sweet Ride
3:55
The Blues almost, inadvertently and accidentally, toggle Sarge to death.
25.
Last Words
4:48
Doc makes an impression on Sarge while the Blues try to fix Church's switch.
26.
Nobody Likes You
4:36
When the Reds try to make a deal with the Blues, one soldier gets stuck in the middle.
27.
Nine Tenths of the Law
5:23
Donut tries to get more in touch with the other members of Red Team better, while Church makes a strategic error - listening to Caboose.
28.
In Stereo Where Available
4:01
The Blues try to control Lopez, while the Reds set out looking for a little payback.
29.
Radar Love
4:02
Sparks fly when Lopez and Sheila meet, but the unexpected return of a former ally changes everything.
30.
I Dream of Meanie
4:31
Tex tries to explain her mysterious return, while Sarge looks for a volunteer for a special project.
31.
Room for Rent
3:54
Church and Tex venture into Caboose's mind in search for O'Malley.
32.
Me, Myself and You
3:14
Church and Tex continue their search for O'Malley, while Tucker, Sheila and Lopez approach the Red Base.
33.
An Audience of Dumb
7:45
While Lopez serenades the Red Team to get them to shut off their radios, Tex and Church come face to face with O'Malley.
34.
Aftermath, Before Biology
4:27
While a personality changed Doc discovers a strange vehicle, Grif has an operation.
35.
What's Mine is Yours
4:48
Simmons and Grif bicker over surgery while Sarge discloses that Lopez is hiding secret plans.
36.
Nut. Doonut.
5:55
While Caboose becomes jealous of Sheila and Lopez's relationship, Grif and Donut undertake a secret spy mission. Donut then overhears Doc/O'Malley make diabolical plans.
37.
Dealer Incentive
6:27
Blue Team interrogates Donut, with Church possessing him in an attempt to trick the Reds.
38.
K.I.T. B.F.F.
13:25
The battle for Blood Gulch moves beyond just Red vs. Blue when O'Malley initiates his master plan.
A non-canonical episode where Sarge and Simmons are supposed to be dead due to the Warthog's self destruct sequence. This episode was made as an April Fools joke.
After an interrupted introduction, the teams complain about the number of NASA-sent space exploration rovers in the gulch, noting it would be much easier to call them using a phone if the they want to find out what the canyon is like.
Church and Grif discuss the differences between real life and the internet to newcomers.
Church, Caboose, and Donut demonstrate the do's and don'ts when using fireworks on the 4th of July.
Sarge and Tucker talk about how to approach your mother with gifts on Mother's Day.
Sarge whines to Tucker about how much taxes he has to pay. Doc appears and tries to sort out their problems - though he nearly gets killed instead.
Church, Simmons, and Tucker explain to Grif how they were defeated in Halo 2 against Bungie Studios.
Sarge tells Grif, Simmons, Church, and Tucker about how great the upcoming Halo 2 campaign will be.
Format
Resolution
Full title
James Bond reference
QuickTime
Low
"Blunderball"
Thunderball
High
"Dr. No-No"
Dr. No
Windows Media Video
Low
"You Only Spawn Twice"
You Only Live Twice
High
"From Blood Gulch With Love"
From Russia with Love
DivX
Low
"Dummies Are Forever"
Diamonds Are Forever
High
"Pinkfinger"
Goldfinger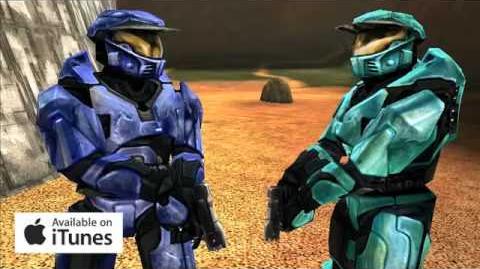 Community content is available under
CC-BY-SA
unless otherwise noted.