Red vs. Blue: MIA is a six-part mini-series that celebrates the release of Halo: Combat Evolved Anniversary. The story chronicles the misadventures of the Red and Blue teams searching for Grif while inside the Epsilon Unit. It takes place somewhere in between the beginning and end of the present-day events of Season 9. The series was first announced at Halo Fest and the first episode was released on Halo: Waypoint on November 13, 2011.
Episode List
#
Episode Title
Airdate
Running Time
Description
1.
Episode 1
November 13, 2011
3:34
Simmons discovers that Grif is missing, ruining Sarge's good mood. Meanwhile, at Blue Base, Church and Tucker criticize Caboose's organizational skills.
2.
Episode 2
November 19, 2011
3:56
While Simmons and Sarge ponder the crudely written ransom note, the Blues begin to think that it's getting too quiet at the other end of the canyon.
3.
Episode 3
November 26, 2011
5:31
Sarge interprets the ransom note's instructions of "make no attempt to contact the authorities" as "call Command immediately." And the radio in Caboose's helmet reveals a surprising turn of events.
4.
Episode 4
December 3, 2011
3:51
After the surprise attack by the Reds, Tucker proposes a plan that unites the opposing teams in search of Grif.
5.
Episode 5
December 10, 2011
3:29
In their joint search for Grif, the Reds and Blues encounter the Blue Grunts, which makes Sarge very nervous. Will Tucker placate the single-minded zealots enough to ask for directions?
6.
Episode 6
December 17, 2011
3:16
With the surprising help of the Grunts, the Reds and Blues finally make it to the city to see the guy. But will they actually find Grif?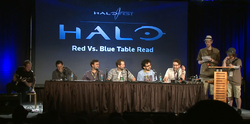 At Halo Fest, the cast of Red vs. Blue read a script of the first few episodes of the maxi series. The story involved Sarge and Simmons realizing that Grif is missing. They find a ransom note saying he has been kidnapped. Meanwhile, Church and Tucker have Caboose clean out the base, just so that he would move everything back in. They are suddenly attacked by the Reds, who are looking for their missing soldier.
Community content is available under
CC-BY-SA
unless otherwise noted.