"The Purge should only be activated as a last resort, if the inhabitants of the planet are not worthy."
—Santa in All or Nothing
The Purge tower was a device with the ability to exterminate all sentient life on the planet Chorus if the bearer of a Great Key deems the planet's inhabitants to be unworthy. The Purge was first mentioned by the alien A.I. Santa and later makes an on-screen appearance in Great Destroyers.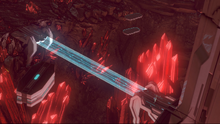 When Tucker, Caboose, Dr. Grey, Carolina, and Epsilon meet Santa, the A.I. informs them of the Purge and its abilities. After Sharkface overhears them, however, he relays the information to Locus and Felix, who make it their goal to activate the Purge and complete their mission of eliminating the inhabitants of Chorus for Control.
However, when Locus and Felix eventually make it to the Purge they're confronted by Washington and Carolina, who proceed to battle them. After the Freelancers reveal that they were simply distracting them in order for their allies to reactivate Crash Site Alpha's tractor beams, the tractor beams pull in the UNSC Tartarus towards the Purge, destroying it.
The Purge is the only location in the Chorus Trilogy to not be represented by an existing Halo multiplayer map and is one of six overall locations throughout the series not to possess a machinima counterpart.
This is the second device introduced in Season 13 that was called "the Purge". The first being a device in the UNSC Tartarus.
The concept of The Purge eliminating all sentient life is similar to the Halo Array, which does the same thing, though it eliminates all sentient life in three radii of the galactic center, as opposed to just planetary.
Community content is available under
CC-BY-SA
unless otherwise noted.