"Those islands are on the chart here. If we draw a line striaght through the center of the planet, it ends up here. Right through UNSC Headquarters."
"That's it? They're gonna tunnel through the Earth from those islands?!"
—Simmons in Desolation
The Power Facility is a large facility on Earth where the Blues and Reds chose to carry out their revenge plot on the United Nations Space Command. First seen in Red vs Red, it serves as the setting of the climax in Season 15. It was infiltrated by the Reds and Blues, who quickly eradicated the forces both inside and out.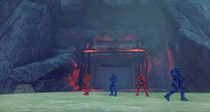 After departing from their Underwater Lair, the Blues and Reds, as well as their forces, establish their base within a mountain on Earth and begin their revenge against the UNSC. However, the Reds and Blues eliminate their forces and infiltrate the facility, where they defeat the Blues and Reds one by one.
Temple, however, activates Loco's Machine, which threatens to destroy the planet. After subduing Temple, the crew have V.I.C. stabilize the machine until it suddenly disappears. Temple and the remainder of the Blues and Reds are then arrested by the UNSC and the Reds and Blues reunite with Sister and the Chorus lieutenants.
The facility is located in an antipode location to the UNSC's headquarters in the inland USA, in the Indian Ocean - where France own a few islands. It is mistakenly referred as "close to the Arctic", when it's actually closer to Antarctica.
Community content is available under
CC-BY-SA
unless otherwise noted.