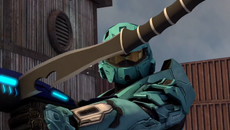 "You think you're the only one who's good with knives?"
—Washington, after skillfully dodging, and catching one of Felix's knives in Great Destroyers
The Combat Knife is a melee weapon used by several characters in Red vs. Blue. The knife made its first appearance in Reunion.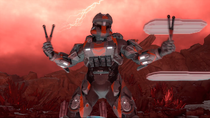 Felix: When a Fed tries to ambush Felix from behind, the latter quickly throws a combat knife into his face, before striking a pose and saying quietly to himself, "I am fucking awesome!" Felix later uses this weapon in a battle with Carolina, using it to stab her in the leg. Toward the end of Season 12, he goes on to stab Tucker with it. Later on, towards the end of Season 13, Felix uses multiple throwing knives against Washington.
Community content is available under
CC-BY-SA
unless otherwise noted.