" This is Caboose's mind, so everybody here is pretty much as Caboose sees the world. That means everyone's gonna be either really happy or, make no sense whatsoever. "
—Church about Caboose's Mind to Washington in Reconstruction: Chapter 11
Caboose's mind is an area frequented by both Tex and Church during Seasons 2, 5, 6, and 14. As its name suggests, the area is actually inside Caboose's mind, which is how the real world is seen in his perspective.
Role in Plot
[
]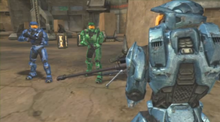 In Season 2, it is the battleground for the fight between Church, Tex and O'Malley, the rage-filled AI who resided in Caboose's mind after leaving Tex's mind in Episode 19. The belief is that, because of this fight, several areas of Caboose's psyche were blown away, which may have led to the downfall of his mental abilities.
In Season 5, it is the area for the meeting between Tex and O'Malley, and the eventual interruption and destruction of that meeting by Church. In Season 6, Caboose's mind once again serves as a meeting area so Delta can brief Church on the message he needs to relay to Washington.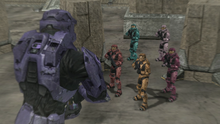 In a flashback episode in Season 14, it appears again during a replay of the events of the episode Why Were We Here?, when O'Malley possesses Caboose. Once he enters Caboose's Mind, the counterparts of Simmons, Grif, Sarge, Donut, and Tucker begin yelling at him, to which O'Malley responds by saying he is going to kill all of them. Tex than appears and O'Malley speaks to her briefly before he is forcefully transitioned into Donut's body.
In every instance of Caboose's mind, it is portrayed as a large, empty area in general disrepair. In Season 2, his mind is represented by the Halo: Combat Evolved multiplayer map "Hang 'Em High" and in Seasons 5 and 6 by the Halo 2 multiplayer map "Tombstone."
Characters
[
]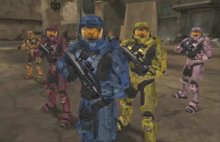 Most of the main characters from Red vs. Blue are present in Caboose's mind at one time or another. Each, however, has a very different personality than their real-world counterparts and they all have the common element of being afraid of Caboose's abilities. The characters in Caboose's mind seem to have behaviors depending on how Caboose sees them in reality. For example, Sarge's voice resembled a pirate's and later resembled a Cockney accent. The weapons in his mind appear to be for show only, as revealed in Season 5.
Trivia
[
]
External links
[
]