"What was that weird place, Sarge?"
"Simmons, I have absolutely no idea."
—Sarge in Visiting Old Friends
Battle Creek is the location in Season 3 where Caboose and Sarge teleport to after leaving Blood Gulch in search of O'Malley. They were sent here due to the Red base teleporter malfunctioning.
While there, Sarge and Caboose discover armies of Red and Blue Grunts locked in eternal combat attempting to capture one another's flags. Soldiers stationed at this base included the Red Zealot and the "camper" (who argued that it was a legitimate strategy). Sarge and Caboose were forced to fight off the Grunts and steal their flags until they were eventually rescued by Simmons. Simmons apparently managed to connect the teleporters between Battle Creek and Sidewinder, so the Grunts could be manipulated into attacking Doc/O'Malley in Make Your Time.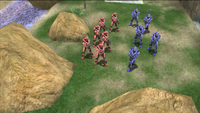 Since the Halo: Combat Evolved engine can only render standard Red or Blue armor in Capture the Flag Mode, Rooster Teeth could only use Sarge and Caboose for these scenes, since they wear the standard red and blue armor. This is also why none of the Grunts have different colored armor.
It's unknown who or what plays the song Reveille at Battle Creek, as all the Grunts die before they are resurrected by the song.
Epsilon's mental image of Battle Creek in MIA is represented by "Battle Canyon" in the Halo: Reach engine.
Community content is available under
CC-BY-SA
unless otherwise noted.